Fishing Laws in Scotland
Scotlands Fishing Laws
Unlike other countries (including England and Wales) Scotland has no State licencing system for fishing. It is however a criminal offence to fish for salmon without legal right or written permission and generally it is a civil offence to fish for other fishes. Details of the most significant statutes that apply are given below. Much of this information was derived from "The Law of Game, Salmon & Freshwater Fishing in Scotland" by Stanley Scott Robinson*. It is not be taken as a definitive description of the laws. Relevant Acts should instead be consulted * The Law of Game, Salmon & Freshwater Fishing in Scotland. Stanley Scott Robinson. Published by Butterworths and the Law Society of Scotland, 1990
The Scottish Fishing season and Permits
Scottish Salmon fishing permits are available for all Northern scottish Rivers from late January / early February and run up to the end of September mid October from just £5 per day / £20 per 7 days.
The Brown Trout Season is from the 15th of March until the 6th of October.
Coarse fishing, Sea fishing and Rainbow Trout fishing are permitted all year round and no national rod licence is required in Scotland.
Fishing permits of all kinds are readily available from most local Inns and fishing tackle shops throughout scotland
Please contact the The Assocation of Salmon Fishery Boards for exact details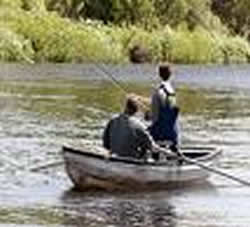 Fishing Scotland
Fort William
Inverness-shire
Scotland