Where to Fish in Scotland
The Northern Scottish Highlands have a wealth of excellent salmon and trout rivers, freshwater hill lochs and sea lochs. The fishing being traditionally for salmon, brown trout and other wild species such as the artic char. Coarse angling for pike is now becoming increasingly popular and the stocking of rainbow trout into privately owned lochs has increased in recent years and there are now a number of commercial fisheries offering quality day ticket rainbow and brown trout fly fishing.
Come and fly-fish in the Scottish Highlands and fish famous water such as the Rivers Borgie and Helsmdale, Spey, South Esk, North Esk, Ericht, Tummel, Lyon, Tilt, and Lochs like Lomond, Awe, Fyne and Eck and many others in Angus, Perthshire. Also the exelent Obbe Fishing on Harris. The best in fly fishing for wild salmon, sea trout and wild brown trout in the Western Isles.
If you get chance check out the limestone lochs around Cape Wrath and Sutherland- the clarity of the water and beauty of the fish
Fishing opportunities in Caithness and Sutherland are bountiful. On the west and north coasts you will find an abundance of short spate rivers and a multitude of lochs. As with most spate rivers you need to be in the right place at the right time to catch the runs of fish many of which begin in late summer so consult with the venue to make sure you get the best of the sport. Runs can be prolific. Nor should you ignore the east coast rivers. These are longer and tend to have more consitent runs and a slightly better stamp of salmon. Many are well managed with considerable efforts being made to improve runs.
The efforts of the west coast fisheries trusts are now starting to return the sport to the halcyon days. Many of these rivers are justifiably famous for their sea trout. Lochs like Hope, Stack, Maree and Dionard have reputations which stretch way back and specimen sea trout are still caught today This is an exceptional area for brown trout. There are simply thousands of hill lochs many of which are remote and virtually un-fished. If you are walking into such loch without a guide do touch base with the local estate. Not only will you thus avoid stalkers, but it is advisable for your own safety - this can be a wild place for the unwary.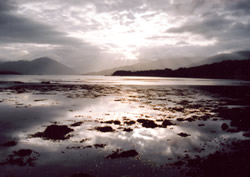 Fishing Scotland
Fort William
Inverness-shire
Scotland